Fashion
Why Every Celebrity's Leather Jacket Game Is So Strong?
Why Every Celebrity's Leather Jacket Game Is So Strong?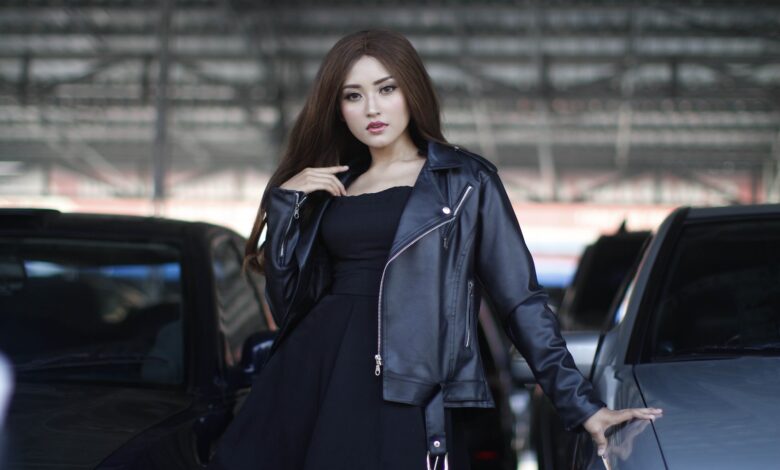 Leather jackets are in fashion and they aren't going out of fashion anytime soon. We spend so much time trying to find the leather jacket and ask ourselves, how do these celebrities slay their leather jackets so effortlessly?
This question, 'Why is every celebrity's leather jacket game so strong?' keeps on popping in our mind. To slay like these celebs, you need a good leather jacket first that you can buy from any authentic leather store online like Thor Vest. As far as the above-mentioned question is concerned, you're finally about to get your answer.  
First, take inspiration from your favorite celebrity on how they slay their leather jackets and all you have to do is copy them to get the same look.
If we're here to decide which celebrity wore it best, we surely won't be able to get an answer. Each look by each celebrity is so distinctively beautiful that it cannot be compared to one another.
Emma Roberts
Emma Roberts has been one of our favorites, hasn't she? Her performances, personality, and her fashion sense has hit the spotlight so many times. If you're looking for inspiration to wear leather jackets, she's one to follow. Like her, you can throw on a leather jacket over a simple tee and a long skirt.
Give your outfit the perfect final touch with a small purse, some cute accessories and a nice hairstyle and you're ready to slay the day.
Nick Jonas
If you've watched 'Jumanji: The Next Level', you probably already know where I'm going with this. Remember the amazing look of Nick Jonas? All he did was wear a button-down shirt with a pair of jeans and topped it up with a vintage leather jacket and he was already the spotlight of the movie.
Try this effortless but classy look and we're sure you'll turn many heads on your way.
Gigi Hadid
Gigi has been one of Hollywood's fashion icons and to follow her is a really good idea. She slayed her attire when she wore a leather jacket. All she did was a simple tee with skinny pants and a leather jacket on top. 
A high ponytail with a few cute accessories will help you ravish your outfit.
Mary Kate Olsewho
If you're planning to go somewhere fancy and plan to wear your fancy leather jacket with it, we've got the perfect inspiration from you. May Late Olsewho have slayed her look for such an occasion. Wear your leather jacket over a simple but gorgeous dress. Throw on some exaggerated accessories and heavy makeup.
You're all ready to slay your party and be the most gorgeous woman in the room.
Brant Daugherty
Brant Daugherty has been our favorite since the movie 50 Shades Freed. His unbelievably gorgeous style is what swept us off the floor. You can take him as inspiration for your look. All he did was wear a simple plain gray tee over a gray colored pair of pants. Throw on a black leather jacket and you're ready to slay your day.
Don't forget to style your hair as beautifully as he did.
Jennifer Lopez
If you're listing gorgeous outfits with celebrities, it's kind of hard to miss the ravishing Jennifer Lopez. She wore a simple shirt with a pair of pants covered with an astounding leather coat. This leather coat has a strapped closure and could be worn with a closed front or an open front.
She was the highlight of the day. Simple yet astonishingly beautiful.
Hugh Jackman
When the name Hugh Jackman comes, we all remember the name 'Wolverine'. Let's be honest, he looked super gorgeous in that movie, didn't he? If you want the perfect leather jacket look, this is what you need to follow.
Hugh Jackman did his look effortlessly and still managed to blow our minds. Pair your brown vintage leather jacket with a plain white vest inside and a vintage-looking pair of pants. A semi-formal footwear and some hairstyling would make sure you're the center of attention in any room you enter.
Selena Gomez
Want to have a rocky yet cool look with your leather jacket? Follow Selena Gomez and her gorgeous fashion style. You can style your leather jacket over a cropped top and a pair of baggy jeans. It'll give you a sturdy yet comfortable look. 
You can try this look with either baggy or flare pants. Either way, we know you're going to slay it.
Conclusion
Styling your leather jacket is tricky but lucky for us, there are many celebrities who have already styled it for us. All we have to do is follow their style and we can make the best out of our leather jackets.
But before all that, you need a gorgeous leather jacket if you don't already have one. So, what are you waiting for? Start finding your perfect leather jacket and slay your outfits like these celebrities do.