Makeup
The 6 biggest make-up trends for spring and summer 2022
The 6 biggest make-up trends for spring and summer 2022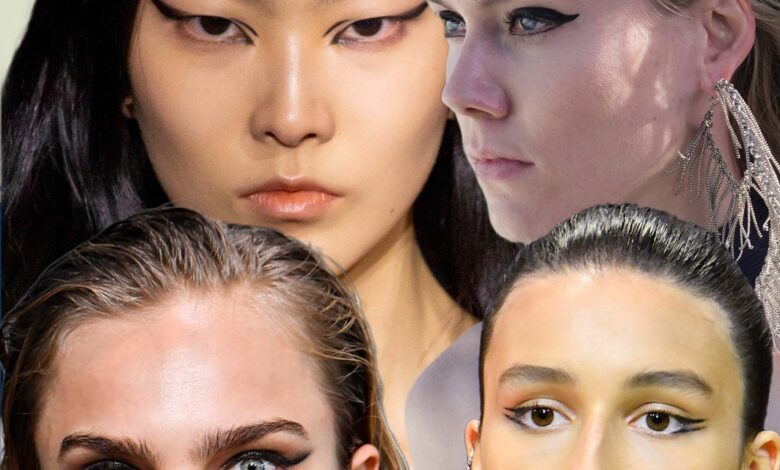 The most important makeup trends for spring and summer 2022
The most important thing first: In spring and summer 2022 there really is a trend for every taste. All make-up preferences are catered for, from almost no make-up to brightly colored looks and black eyeliner. So there was a lot going on on the catwalks in terms of beauty that we don't want to withhold from you. These six trends stuck in our minds the most.
1. Spring/Summer 2022 make-up trend: bright lids
Color will come into play in 2022 – and really! We prefer to wear bright tones with a neon character on our lids in spring and summer. And color blocking with the colorful eyeshadows is also welcome! The main thing is that it bangs. Tip: If you want to intensify the luminosity of the colors, you should put a white eyeshadow primer or a white eyeshadow underneath. The white lets every colorful eyeshadow shine even more. Otherwise: try, try, try. Loud eye looks scream for creativity.
2. Spring/Summer 2022 make-up trend: light foundation
Sometimes less is more – and in spring and summer 2022 we will take the motto to heart, especially when it comes to foundations. Because it's going to be tender: light textures, glowy finish and little opacity. This ensures a natural result and the perfect "no make-up" make-up look . Tinted sun creams are ideal for the sunny season, because thanks to their sun protection factor they protect against the sun's rays and conjure up an even complexion like a light foundation.
3. Spring/Summer 2022 make-up trend: New Black Liner
Black eyeliner is a popular classic that gets an update this season. It is played with form and intensity: wide lines, double lines, mega wings or hardly any wings – it is worth trying out and daring something new to give the classic some momentum again.
4. Spring/Summer 2022 make-up trend: dark berry lips
Dark lips in summer? Yes! Dusky pinks, purples and reds were a common sight on the fashion show runways and we fell in love with this makeup trend right away. With a glossy finish, the dark colors look a bit friendlier and are perfect for everyday use. In matte they last all day and all evening, perfect for long summer nights.
5. Make-up trend spring/summer 2022: from peach to bronze
Monochrome make-up looks were already a real highlight in 2021. In 2022 we will again be covering lips, eyelids and cheeks in the same or a similar shade, preferably in warm orange tones. Bronzed Brown, Peach, Terracotta – we love them all! And if a monochrome make-up look is too much for you, you can of course also apply the orange tones to your face as a single eye-catcher. Best of all: the warm shades immediately give the complexion freshness and make it look more lively.
6. Make-up trend Spring/Summer 2022: Blush Flash
Blush has taken an important place in our makeup routine thanks to social media. There are always new tricks on how to apply or wear it. And we also discovered a very special blush trend at the Fashion Weeks: you can see it quite clearly now. It's totally hip to apply rouge visibly and not to blind it like crazy. The motto here is: More is more! we love it